BOX OF 500 GUMBOOT TEA OVERWRAPPED TEA BAGS

- (GUMBT)

Purchase BOX OF 500 GUMBOOT TEA OVERWRAPPED TEA BAGS online from Arnold Products Limited.
Technical Notes
A brisk and refreshing tea to be drunk either with or without milk. Blended from the finest black teas available.
10% of the value of this tea will go to directly support youth mental health counselling.
As well as the financial benefit, we also hope that it will promote more conversations about youth mental health, after all there's nothing like a good cuppa and and a chat.
The packaging for this product is plastic and foil free. Packaging is Paper and cotton.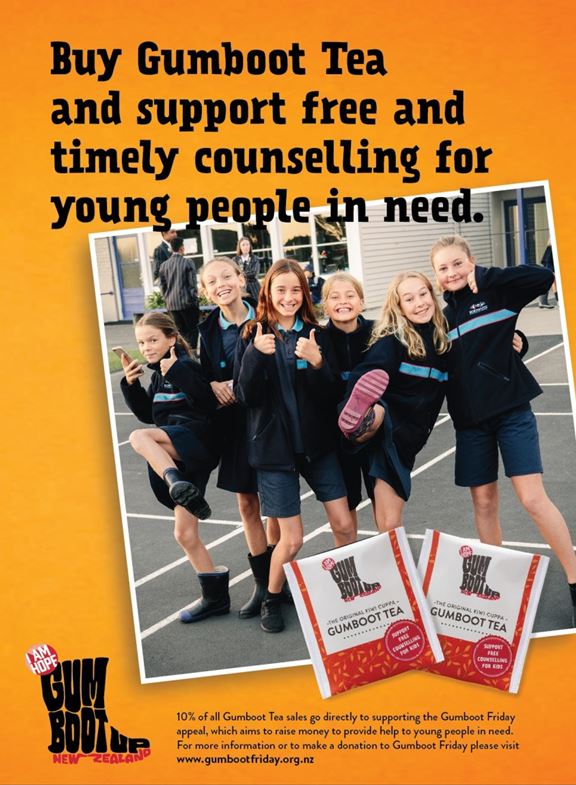 Join the mental health conversation over a good old cup of Gumboot Tea, while raising money to provide FREE and timely counselling for kids in need.
We have teamed up with Mike Kings Key To Life charitable trust to help promote and raise funds to directly support their work to get free and timely counselling for our young people that need it.
Having depression is like walking through mud every day.
So on November 5th, we ask you to show your support, put your gumboots on, give a gold coin, and take a walk in their shoes for just one day.
But we have come up with a way that we can generate much needed funds for this amazing program year round and promote conversations around youth mental health over a classic cup of gumboot tea. 10% of the price of the I AM HOPE Gumboot tea will go directly to fund the amazing work of I AM HOPE charitable trust.
As either an addition to your current beverage offering or by simply swapping out a couple of existing teas, you can help raise money and awareness of youth mental health and wellbeing. After all who doesn't want to make the world a better place?
Naturally, Gumboot tea is packaged in 100% compostable packaging, you'd expect nothing less.